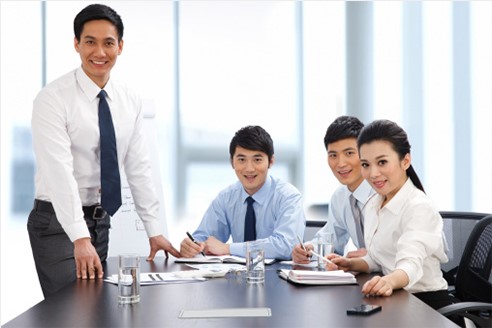 1. If you want to learn about KPI, you should know about the best practices of Phuc An Thinh
In recent years, KPI (Key Performance Indicators) has become very familiar in management at enterprises in Vietnam.
According to below formula:
SUCCESS = STRATEGIES + RESOURCES + MANAGEMENT SYSTEM
Nowadays KPI is not only a term of assessing performance but also a breakthrough solution in management system of an enterprise. In some situations, KPI is seen to be a miracle to help the enterprises become more systematical and more professional.
However, defining indicators in performance management is extremely difficult and applying these indicators in daily management is much more difficult many times.
To be successful, the leaders and all levels of employees have to endeavour very highly for a very long time.
2. Income policy and benefit policy
Income = Salary + Bonus on performance + other bonuses
Phuc An Thinh always show sincere attentions to all the employees and help them have both full material life and rich spiritual life.
Income policy was built based on some criterias such as: income is commensurate with the performance, encouraging the employees to improve productivity. Income policy is fair, transparent, different and competitive.
The income policy is public. The employees can know their annual income fund and can calculate the salary or bonus themselves. If they would like to earn more money, they will try to work more efficiently. They always look for which tasks have to finish and never wait for the manager assigning tasks.
Salary of the employees are classified according to the 3P principle: P1: Position that they are assigned; P2: Person or competencies that they have; P3: Performance that they have to achieve.
Bonuses on some holidays and other bonuses based on effectiveness of projects.
There are some types of allowances such as: business charges, mobile phone charges, luch benefit, ect.
Welfare: social/health/unemployment insurance, accident insurance, annual physical examination, summer vacation and picnics/teambuilding games.
Other events that show the attentions to children of the employees such as International Children's Day (June 01), Mid-autumn Festival, Christmas Day, ect